Well, that sucked. Just when we were all set for the twice-postponed BeerBQ, it's shut down again. We will get to it sometime. Maybe in the next couple of weeks. Keep an eye out for updates.
Summer competition 2021
How low can you go!
Summer competition is soon upon us and as in tradition with the summer comp, we will be judging at a Wednesday meeting among members and will have some fun with it along with a main category.

Main category: How low can you go,
Brew your best low alcohol beer from the following BJCP categories:
1A: American light lager, 3A: Czech pale lager, 5A: German lightbier, 11A: Ordinary Bitter, 13A: Dark Mild, 23A: Berliner Weisse, 28: American Wild ale (as long as sub 4%.)
Sub-category (just for fun) Hazy beer
Any type of pale hazy beer you like, the hazier the better. Entrants to give a rough style description as well as list any special ingredients or allergins.
Judging will take place on February 17 at the monthly meeting at the Wheaty at 7pm. Bring your entries on the day or drop off locations will be published later. 

Strictly two entries per brewer in a glass or plastic bottle equal or greater than 500ml.$5 per entry for paid club members only.  Online entry will close Friday 12th February.
Virtual meet up
Lachlan provides the minutes from our vitual meeting last night. Watch out for notices alerting to them.
We had a smaller turnout for last nights zoom meet, but there was some good discussion and no recording so I'll post the highlights here.
BeerBQ update – we're in a holding pattern on this until restrictions ease. Keep up the good work SA 
Raf gave a really informative talk about how to brew mead. His mead won't best of show at this year's AABC judged last month. Congratulations Raf!!!
Brendon has figured out how to add wireless charging to the iSpindles he's building. Genius! – http://www.ispindel.de/
Gus performed the worlds longest kveik ferment – 14 days whilst he was away. Seriously it was probably finished before his flight left the tarmac…
BJ has some seriously disturbing elves 
I brewed a diacetyl bomb and I think it was due to hop creep. Check this presentation I found on the topic: https://youtu.be/dN3m-TMfeI8
Someone should brew a Swanky beer – BYO magazine, Dec 2019 issue has a description and recipes (and so does Beer Advocate not behind paywall).
At this point my laptop overheated and died so I missed the rest. Attendees – is there anything to add? We expect to be back at the Wheaty for the December meeting. No set topic, just the traditional pizza and secret Santa.
Barrel be brewed
Thanks Gavin for storing our barrel project and brewing up an extra batch to fill it. The Flanders red was brewed at Left Barrel Brewing a few weeks ago and fermented by individual members was brought together to the club barrel. Sweet dreams… see you next year.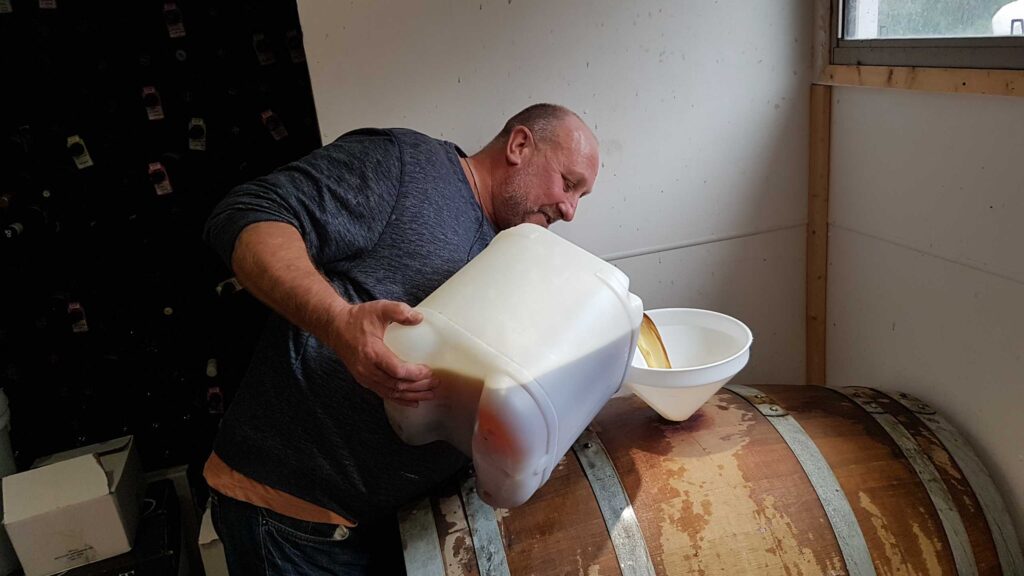 Looking forwards
December 16 – Beers and pizza at the Wheaty
January – Club meeting at a brewery venue TBC
February – Summer Comp judging at the Wheaty.