The monthly club meeting is on this Wednesday at the Wheaty from 7 pm. After a flurry of activity managing a successful SABSOSA, we're back to core business — almost.
On the feedback we got on last year's post-SABSOSA meeting, we're going to do it again. Some of our winning brewers will reveal the story and secrets behind the brewing of their winning beers and share their tips and advice for what might have given it marginal gains to earn a medal.
We know not everyone cares about competitions but comp winning brewers make good beer and it's good to learn how we can make our beers better.
If you did well and can bring in some of your beer for a tasting, that'd be great. Drop us a message to let us know (info@sabrew.com)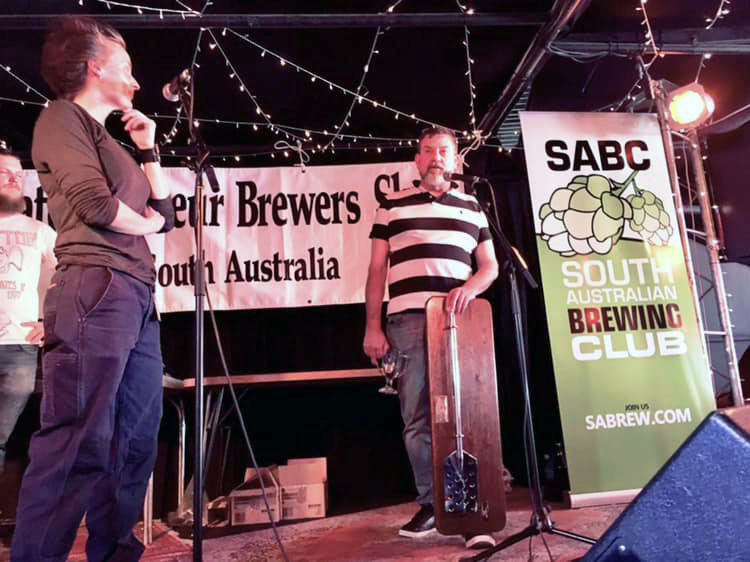 SABSOSA Results
SABC, again, did really well in the show. Congratulations in particular to winners of Best Brewer Of Show, Gary Waters and Highly Commended Beer (Imperial Stout), Julien Gibson.
Also, Luke Scrivens, Wolfgang, Thomas Michl, Rafael Aragon, Brenton Schoemaker, Wol, Brendan Macey, John Van der Zalm, Liam Yorke, Craig Milnes, Lachlan, Ali Holden, Neill Gardner and Paul Sparkes.
The full results are now on the SABSOSA page.
A big thank you to Gary and Julien who shouldered the majority of the work organising the competition and everyone who helped judge, steward or did anything to make it the successful and smoothly run comp it was… and of course all of you who entered.
Left Barrel Brew Day #2
We held one last year and Left Barrel has invited us to brew again. For members who didn't get to do it last time, we can offer it to about 15 to brew on Saturday, October 12. Express interest on the Facebook event or email us. We hope we don't have to have a rock-paper-scissors playoff to select the final 15. Get in fast. More on Wednesday.
Want to brew a beer with kviek?
We've got the ingredients to brew a beer using kviek yeast — the Norwegian monster yeast that knows no temperature boundaries. Come on Wednesday and put your case forward — again it might involve a rock-paper-scissors playoff to select a winner. Resident kviek professor, Mark Pirates, is going to share his boundless passion for his favourite Norwegian product other than Aha.
Got any ideas?
We're always looking for meeting night presentation ideas. If you've got something you want to share or group experiment — let us know. We can help buy ingredients if needed.
Case Swap
Glen is hosting another case swap on Saturday, November 9. A case swap is a good chance for brewers to get together to enjoy beer, talking brewing and of course, talking crap. Attendees typically bring a keg or bottles of homebrew beer along to share. Talk to Glen or send him a message if you want to know more (like where he lives). More on Brew Adelaide forum here.
Merch!
If you want a t-shirt or cap for summer or a hoodie to warm up on chilly spring evenings, order from the SABC shop. If you order now, we can deliver to you on Wednesday night. https://shop.sabrew.com/
You can also join or renew your membership too!
Robe Beer Festival Homebrew Competition

Enter your beers into the Robe Beer Festival and compete for gold, silver and bronze awards in 10 categories, up to $1000 in prize money. Gain recognition for your crafty brews and valuable feedback from the competition's judging panel. This is your chance to win the BEER OF SHOW prize, where you get the opportunity to roll up your sleeves and brew your winning beer on a commercial scale at the local Robe Town Brewery in Robe, South Australia.

Awards will be announced on the main stage at Robe Beer Fest 2019, Saturday 26th October.
The Entry deadline for entry to the Robe comp must be received by email: October 13th. Entry Form is here.
They also need judges. Contact Tom O'Reilly on 0434 497 131.
They're also organising a masterclass for homebrewers that will be held in Robe on the afternoon/evening of Friday, October 25th, during the final judging stages of this year's homebrew competition. Learn about classic homebrewing faults and how to avoid them, as well as tips for making great beer from experienced brewers and beer judges.