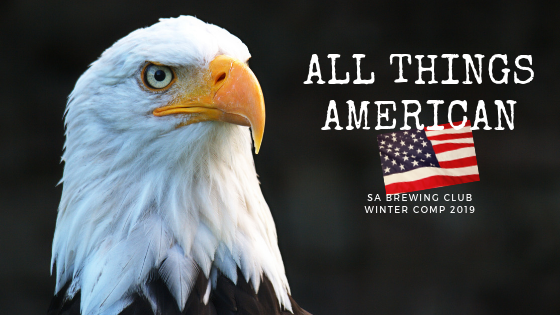 The club annual winter competition will be judged on Saturday, July 6 from 12pm at the Irish Club, Carrington St Adelaide. The theme is 'all things American' — adherence to style and not just 'add more hops' might just separate the winning entries from the rest of the pack.

The entry competition entry portal is open now for entries. If you're new to SABC or have not entered one of our competitions before, you need to log in to access it. You can easily reset your password or create a new account if you need to.

Important: Please enter early, pay and print labels at the same time. The page will be closed for entries on Thursday, July 4 at 11pm and will not allow you to access your entry after that time for changes, printing or late payments. We need time to organise everything prior to judging. No exceptions.
The categories — All things American(ish) — is limited to 20 beers in seven BJCP 2015 categories.* Ensure you enter the correct category.
1. STANDARD AMERICAN BEER
18. PALE AMERICAN ALE,
19. AMBER AND BROWN AMERICAN BEER
20. AMERICAN PORTER AND STOUT
21A. AMERICAN IPA
22. STRONG AMERICAN ALE
28. AMERICAN WILD ALE
Note: NEIPA is not recognised in the 2015 BJPC categories and will not be judged.
Bottle drop off will be available at the June meeting, BeerBelly, Country Brewer and on the day. Other drop off places possible by request. Email us.
Make it a social occasion.
Everyone is welcome to come along and judge, help or just hang out and have a beer. Winners will be announced at the end of judging and notified by email. Winners not present need to claim their prize on, or before, the next club meeting on July 17.
See SABC competition Terms & Conditions .