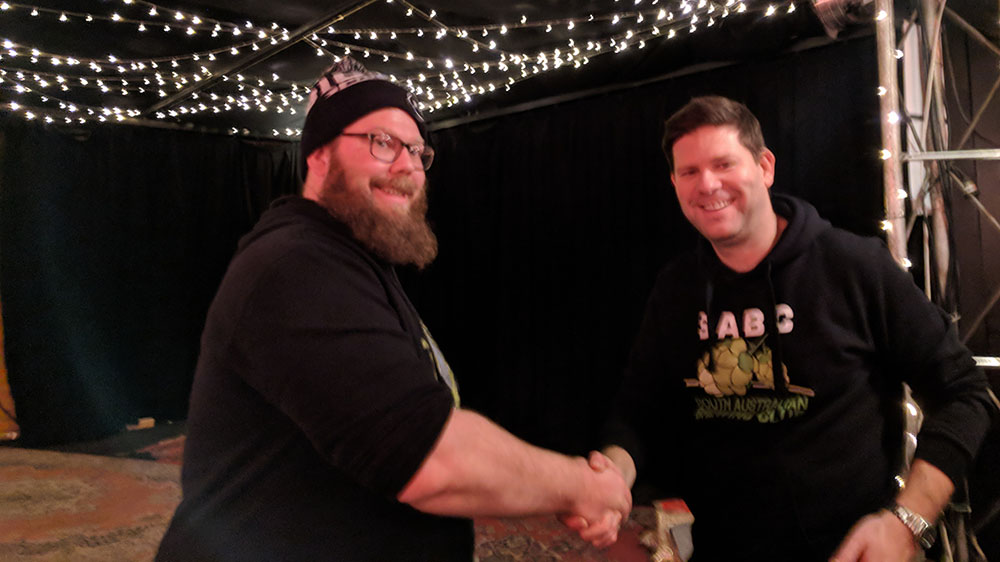 Thank you to all the members who attended our July meeting for the winter competition judging and prizes and the club's AGM. We had an unprecedented 52 entries. A big thanks to Gary and Julien for wrangling it so well along with everyone who judged and stewarded.
The results and judges' comment sheets will be available through the portal in the coming week.
Thanks to the generosity of the club's sponsor BeerCo, our prizes were awesome this year with some excellent ingredients packs. A ticket to ANHC was also a prize — the decision made by the committee to offer this as a prize was to aim to continue to grow our competitions and add great value for our membership by offering prizes of significant value.
The State Amateur Brewing Competition of SA (SABSOSA) is just around the corner so don't drink your winter comp entry just yet and get brewing for state and national glory. The entry portal for SABSOSA is now open too.
While on SABSOSA, the AGM voted in favour of an amendment to our constitution to incorporate SABSOSA into SA Brewing Club as a subcommittee. It's in line with how the peak state comps are managed in other states and sees SABC, the state's top club, manage the state's top brewing competition. It's a great opportunity for the club and to help SABSOSA move strongly into its third decade.
The AGM was held and we heard from outgoing president Clinton Fisher who delivered his report on the successes and growth the year had seen. Clinton is reluctantly stepping down due to work commitments this year. On behalf of the membership and the committee, we thank him for all of his hard work as a committee member and president over recent years.
I know it was a tough decision for him and I thank him for his steady hand on the helm and vision (pun also intended… Specsavers Rundle Mall for all your optical needs). The club membership has grown by around 30 per cent, is financially sound and has a great structure for meetings, events, competitions and general good vibes.
The SABC incoming committee is: Luke Moran (VP), Jo Morgan (secretary), Edward Shorne Holden (treasurer), Julien Gibson (IT), Lachlan Johnson (events), Samantha Wallwork (comms and social media), Glen Phillis (general committee and meeting night co-ordinator) and, me, Gus Kingston, president.
The committee might be the heart of the club but it's the membership that is the blood. There are seven of us but 75 members. If you'd like to help with anything — organising a meeting talk, events, brew days, beer swaps or just something fun (quick quiz for prizes anyone?) — let us know in an email. or share your idea on in the Facebook group. Don't be shy, all ideas are welcome.
Coming up soon: next month's meeting is at the Wheaty on August 15 and our guest is local brewing legend and educator Stephen Nelsen for a Q&A, so get your questions ready.
Jade from Wheaty Brewing Corps has always been a great supporter of the club and last week she gifted us 5kgs of vacuum packed Vic Secret hops, the Australian hop said to be very similar to Galaxy. We're not sure of the plans yet but suffice to say everyone at next month's meeting will get some and we're working on a comparative tasting experiment. If you are keen to brew an experiment let us know (Galaxy vs Topaz vs Vic Secret showdown?)
Also as I said before, SABSOSA is coming. Entries close on August 24 with judging on September 1-2 at the German Club. Entries to the Gawler Show are also open. See our website's calendar for more info.
A final reminder that you can now renew your membership through the new membership portal on our site. More info on how to here.
Until next time, I hope you hit your OGs.
Gus