Summer Competition.
Judging will take place from 12pm on Sunday 29th of January at ETKG Tennis Club Kensington Gardens. We need judges please register on the portal. Portal entries close on the 27th and drop off at Beerbelly Pooraka by Friday 27th January or at the judging venue by 11am Sunday 29th January.
Due to Paypal issues this competition will be free to enter. Anyone who has paid already will be processed a refund, please allow the hardworking Julian / Lachlan time to do so. Mark.
Mead Workshop.
14th of January, Raf lead a group of enthusiastic "Meaders" for the inaugural workshop. It seems the warm day was enjoyed by all and there will be a few more entries in the Mead section this year. Keep posted for announcement of a second day. Mark.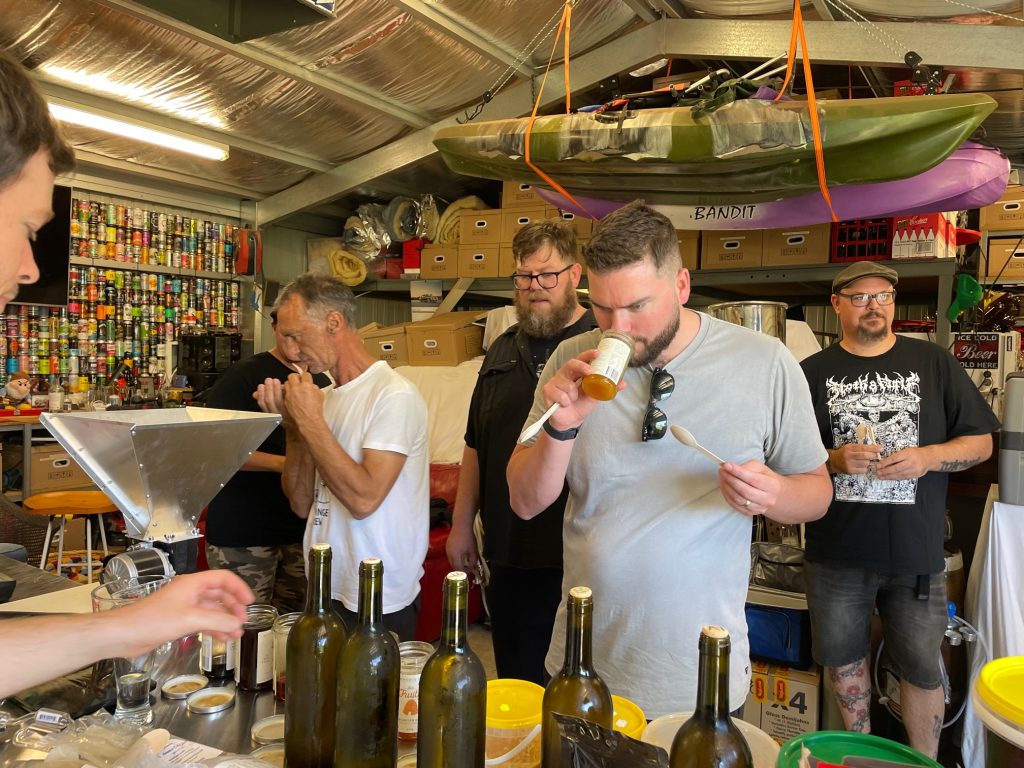 Treasurer Report.
"I can report the Treasurer is having a great weekend" Lachlan.
Free Stainless!
Well Jade has done it again, this time it's the stainless steel type of help. Kegs free to us, make them into 2or 3v systems, make fermenters, hell make furniture. Just 2 things, they need to be depressurised (carefully!!) and we need to coordinate a pick up day prior to the feb meeting. Please signify your interest to Gary ASAP. Gary Mr President.
Fleurieu Beer Festival.
So who ever thought combining an international bike race and with a beer festival in a historic village would work, they were right. Well the beer was cold, the weather was sunny, and most importantly there was a Home Brew Competition , congratulations to Nick Hauschild for coming third. It was fantastic to be involved, and thanks to Nick and BJ for helping get the home brew competition off the ground. As a very direct result of the competition and festival, breweries like Shifty, Kick back, Beer No Evil and yet to be opened Penny Red are very interested in being involved with the club, so watch this spot. Gary.
Your Feedback Wanted!
Last week's Jan Meeting: event planning for the first part of the year got underway, as part of sharing what was raised we'll post a calendar shortly with ideas and planning events – we're really looking for input from you, so you can get the most out of the club with great like minded folk. Please contact Nick McAuley with your ideas. Nick M.
February Meeting.
This will be held at The Wheaty on 15th February at 7.00pm. Let's see if ppl can brew a hop water, bring it to the Feb meeting for sharing and tasting. Obviously hop water is a pretty loose 'brew', but some club members have already seen it as a good way to test out hops in small batches to compare for example Cascade to Nectaron, Eclipse to Topaz before brewing a beer. Josh Smith will be doing a short presentation on his process and will bring some samples to try. Nick M / Mark
March Meeting.
This is locked in for ShapeShifter on 15th March at 7.00pm. ShapeShifter will need RSVP numbers for this one so please do so in the event approximately a week before the meeting. A group challenge will be announced so get your captains ready and a representative there on the night! Nick H.